Shower Systems
Choose a GROHE shower system for your bathroom and experience a new level of showering enjoyment.
Featuring a hand shower and a head shower, our shower systems are easy to install and benefit from an impressive array of GROHE technologies. Our shower systems are available in a wide choice of designs to complement all styles of interior and match all budgets.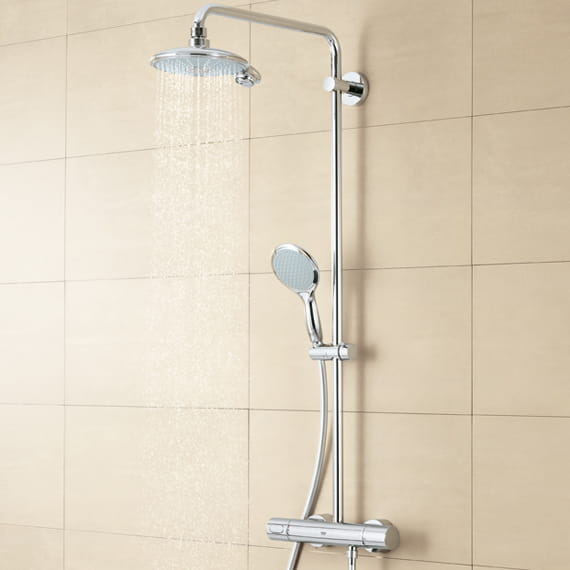 The Complete Showering Solution
Systems feature either a thermostatic shower mixer or a diverter valve – to match the requirements of your project:
-All shower systems are externally mounted: ideal for a quick bathroom renovation project.
-GROHE DreamSpray® technology ensures balanced water distribution to every shower nozzle.
-All designs are finished in GROHE StarLight® chrome for an immaculate shine.
-SpeedClean nozzles on both shower heads prevent the build-up of limescale.
-A choice of shower arm lengths ensures maximum showering comfort.
-For an enhanced hydrotherapy experience, choose a Rainshower® System with body sprays.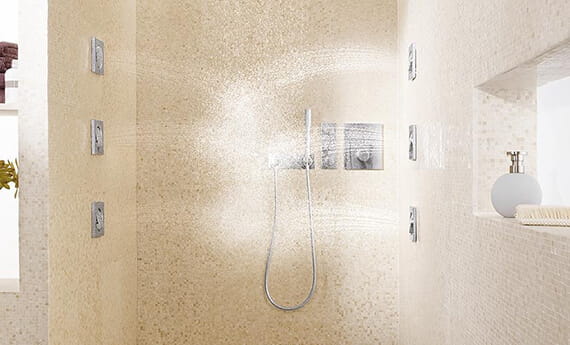 Thermostatic Shower Systems
Comfortable and convenient to use, a thermostatic shower system will protect you and your family for the risk of scalding. Thanks to GROHE TurboStat® – the technology behind our thermostatic mixers – your pre-selected water temperature is maintained for the duration of your shower. For care-free showering choose a thermostatic shower system. Features include:
-A SafeStop button – to prevent the temperature from accidentally being raised above 38º Celsius.
-GROHE CoolTouch® technology ensures the body of the thermostatic mixer never becomes too hot to touch.
-An AquaDimmer, which enables you to divert the water from hand shower to head shower.