Push, turn, shower GROHTherm SMARTCONTROL

INTELLIGENTLY DESIGNED, INTUITIVELY CONTROLLED
The GROHE Rapido® SmartBox and GROHE SmartControl® together offer a huge number of benefits. At first, it's the slim, streamlined design of GROHE SmartControl that draws your attention. But then you discover all the qualities hidden behind the beautiful exterior and those elegant buttons: the perfect control for an individual shower experience.

We gave the GROHE Rapido SmartBox its name for a reason: it is full of clever innovations and able to adapt to every one of your projects. Combine it with any GROHE SmartControl trim set for a doubly smart solution.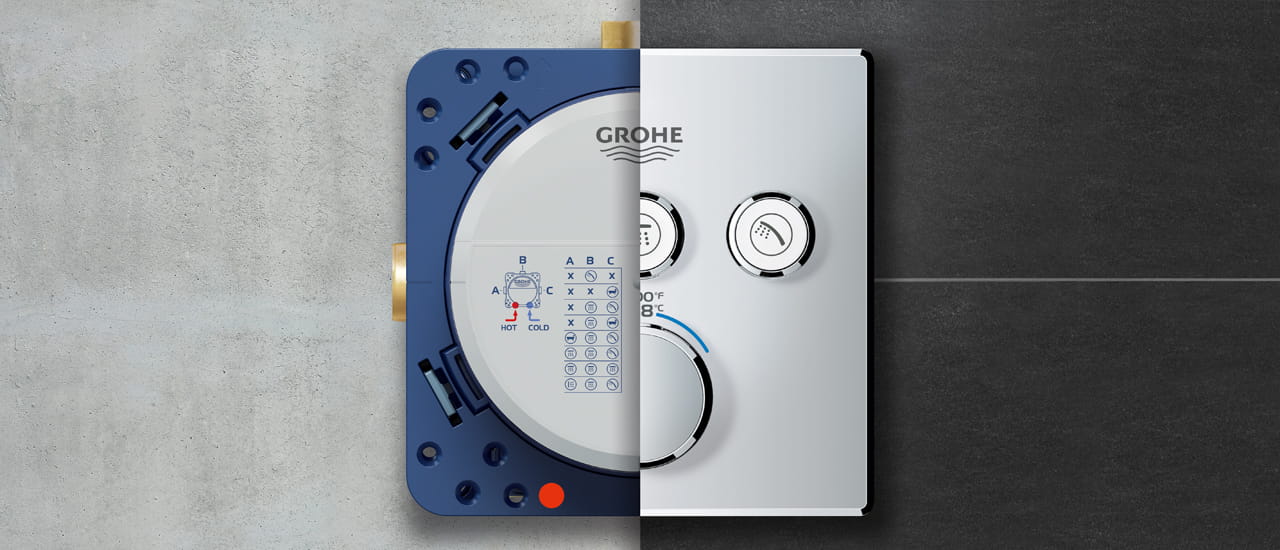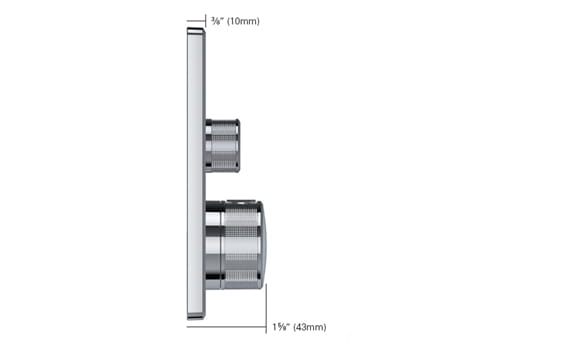 SLIM PROFILE CONTEMPORARY DESIGN
1 5/8" (43 MM) TOTAL DEPTH
Whatever the installation depth of the rough-in, the total depth of the trim never exceeds 1 5 ⁄8" (43 mm). The Grohtherm® GROHE SmartControl® trim combines space-saving convenience in the shower and slim good looks.

THINNER WALL PLATES
With a depth of only 3 ⁄8" (10 mm), its super slim design makes the GROHE SmartControl wall plate both elegant and compact.

HIDDEN SEALING SYSTEM
The GROHE SmartControl has an integrated sealing system, eliminating the possibility of water seeping in behind the wall.

SYMBOLS CAN BE CHANGED
The control knobs come with a range of different symbols, representing the different shower options. These symbols are clear and recognizable and their functionality distinct. They can be individually configured and also easily changed, if required.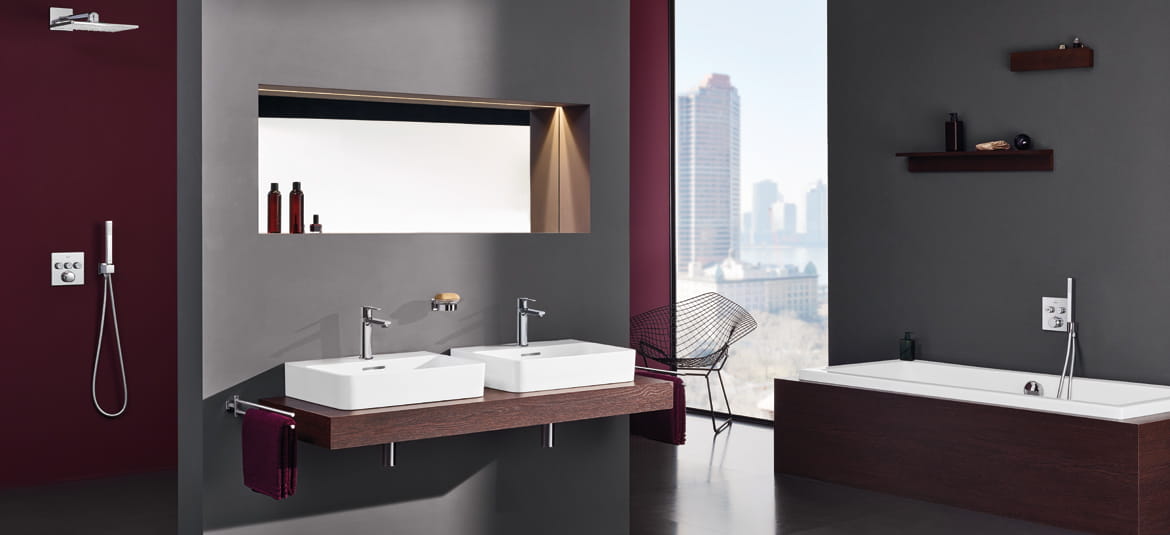 LESS IS MUCH MORE – ONE TRIM DOES IT ALL
TURN UP THE VOLUME – OR DOWN IF YOU PREFER
GROHE SmartControl offers not just a choice of shower sprays, but also the precise control of water flow. GROHE SmartControl features an integrated volume control for an individual shower experience. A simple push of a button starts or stops the desired shower. And just a turn of the dial allows for precise control of water volume. Thanks to the clear symbols on the buttons, operating them is simple and intuitive.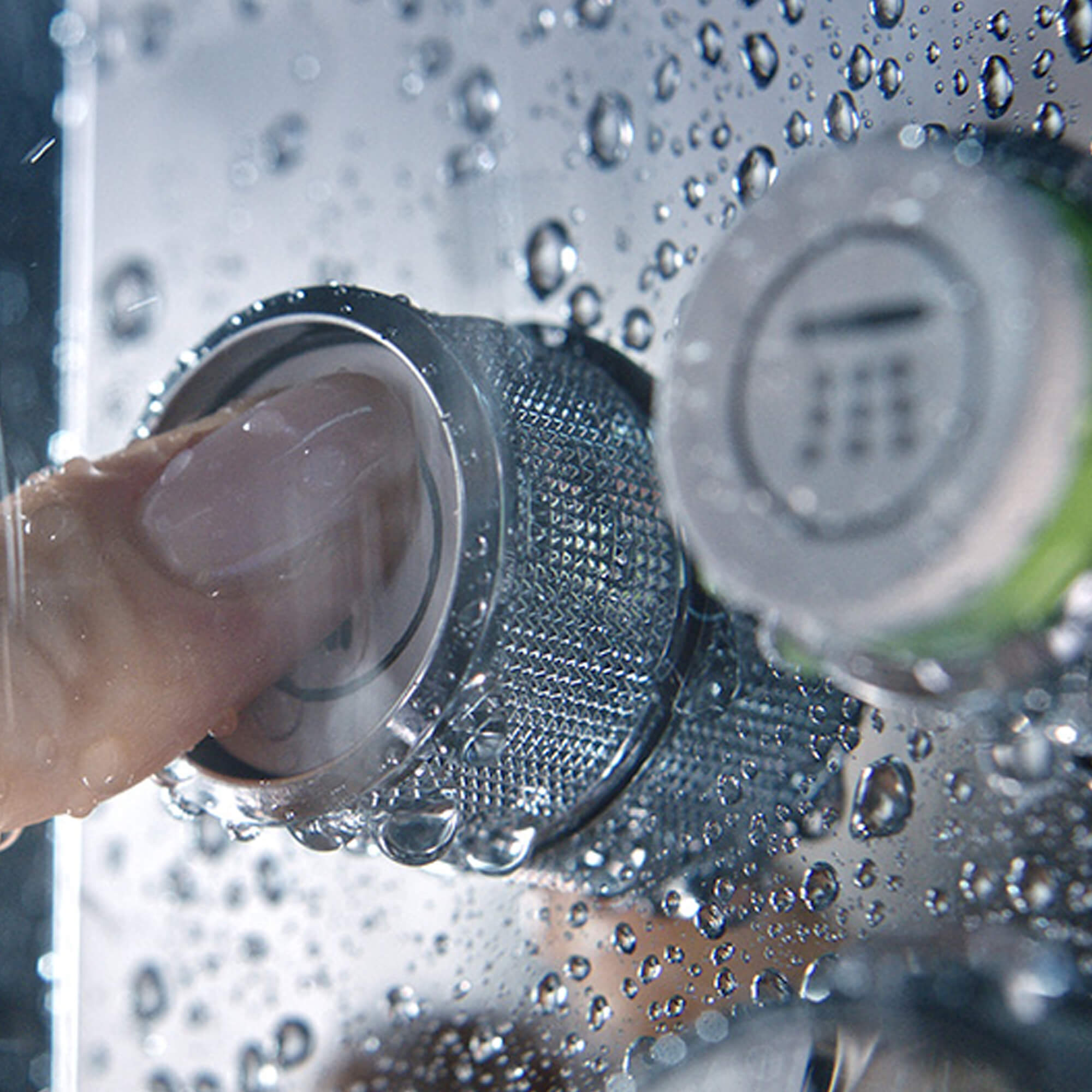 CONTROL UP TO THREE SHOWER OUTLETS WITH JUST ONE TRIM:
Today, people want more than the standard shower head and tub spout. But, in order to have a hand shower and body sprays, you need a diverter or multiple volume control trims and the corresponding rough-in valves. GROHE Rapido® SmartBox and GROHE SmartControl® make it simple. With just one rough-in and one trim, it is possible to enjoy multiple shower options. Featuring up to three GROHE SmartControl volume controls plus thermostat in one trim, GROHE SmartControl means half the work for three times the showering pleasure.











ROUND OR SQUARE?
GROHE SmartControl® comes in two different forms –round and square. It also comes in three stylish finishes: classic chrome, brushed nickel (available on round models only) and, for a subtle elegant design statement, moon white acrylic glass. Each variant matches existing bath collections perfectly.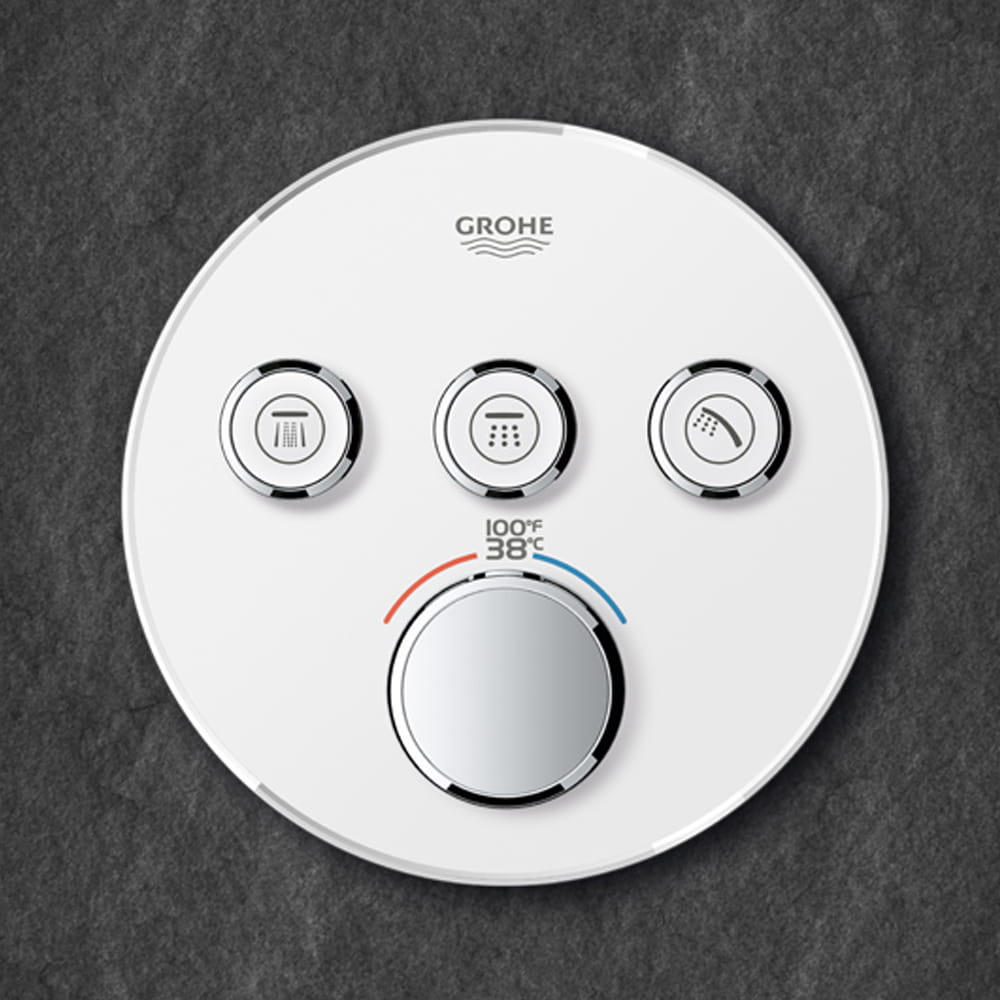 ROUND DESIGN


RECOMMENDED WITH THE FOLLOWING GROHE BATH LINES:
Concetto™
Essence
Europlus®
Eurostyle
Eurostyle Cosmopolitan
Eurosmart®
Eurosmart Cosmopolitan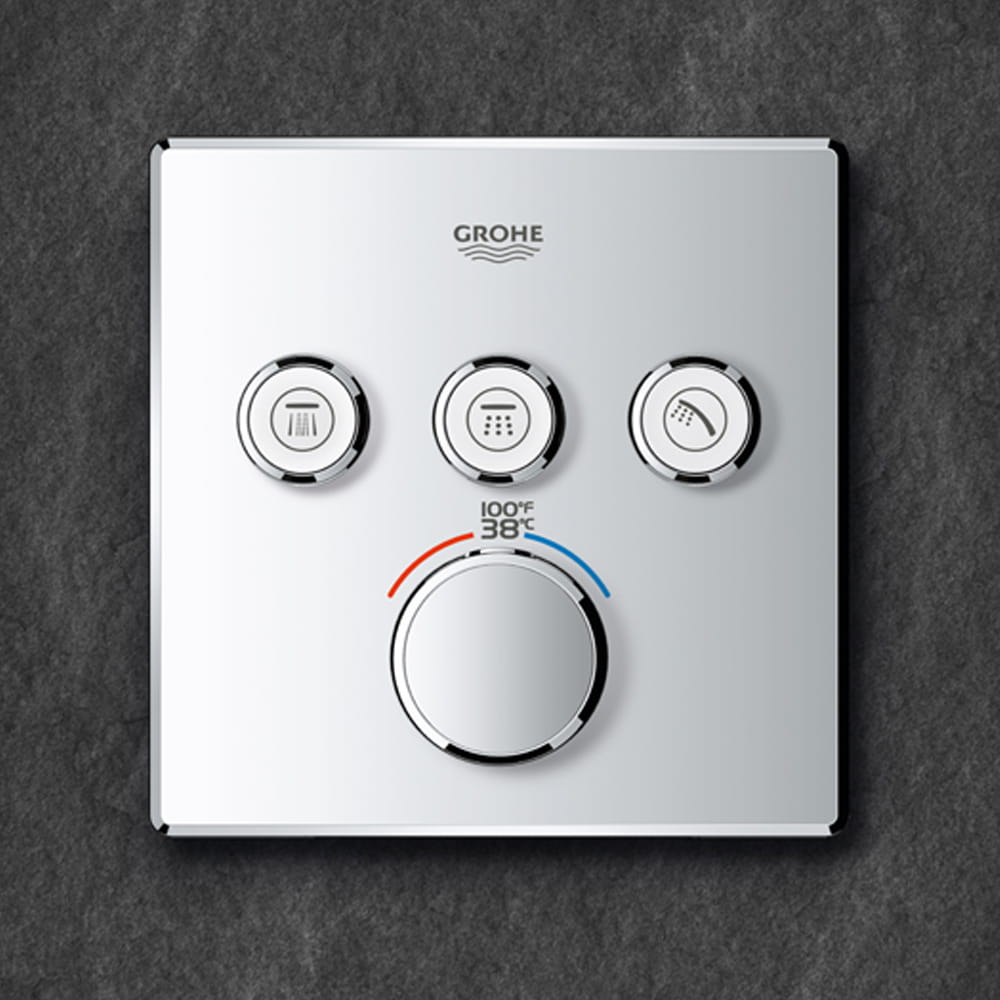 SQUARE DESIGN
RECOMMENDED WITH THE FOLLOWING GROHE BATH LINES

Allure
Eurocube®
Eurocube Joy
THERMOSTAT WITH
GROHE TURBOSTAT® TECHNOLOGY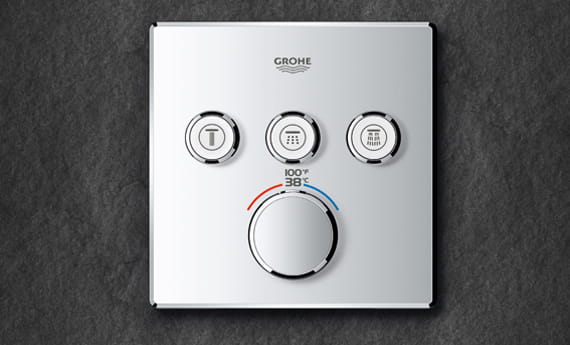 ALWAYS THE RIGHT TEMPERATURE:
FOR ULTIMATE CONVENIENCE AND SAFETY
GROHE TurboStat technology lies at the heart of our Grohtherm® thermostatic valves. The thermoelement's unrivaled sensitivity means it delivers water at the desired temperature within a fraction of a second – and keeps it constant for the duration of the shower.

No more time, water and energy wasted getting the temperature right. And if the cold water supply fails, the thermoelement reacts instantly: the hot water flow will shut off automatically to avoid the risk of scalding.

Grohtherm thermostats come with a 100°F/38°C SafeStop button and can be complemented with an additional limiter at 109°F/42°C. But more than just controlling the temperature, GROHE TurboStat compensates precisely for fluctuations in pressure for a consistently comfortable shower.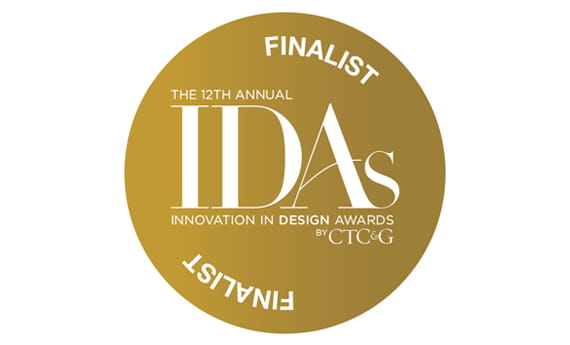 GROHE's GrohTherm SmartControl was named a CTC&G IDA Finalist for 2018 in the Product Design category. The Innovation in Design Awards by CTC&G, now in its 12th year, honors top design in Connecticut. Design submissions are judged by an exclusive panel of judges comprised of key influencers in the design industry of their respective fields.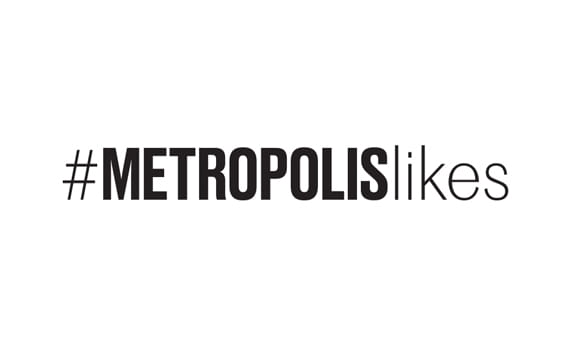 GROHE's GrohTherm SmartControl won a #MetropolisLikes NYCxDESIGN award. NYCxDesign is an annual high point on New York's design calendar: It is home to the major design fairs—ICFF, WantedDesign, Brooklyn Designs—and ambitious art and design exhibitions. Editors selected 24 winning products from submissions across the city-wide celebration. This diverse group spans textiles, lighting, furniture, and technology, and demonstrates new thinking about materials, sustainability, user experience, and interiors.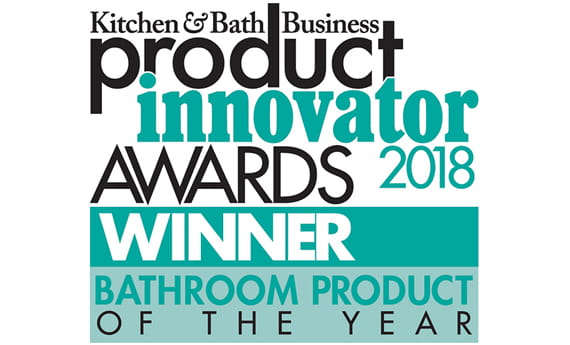 GrohTherm SmartControl won a 2018 Product Innovator Award from Kitchen + Bath Business!

The GROHE GrohTherm SmartControl with the Rapido SmartBox was recognized as 2018 "Bathroom Product of the Year" by the leading kitchen & bath design trade magazine in the US. GrohTherm bested more than 85 new bathroom products in the 2018 Kitchen & Bath Business Product Innovator Awards on criteria that included market needs, engineering advancements, aesthetic merit, and innovation.
GROHE GrohTherm SmartControl with Rapido SmartBox won Architectural Record's 2018 Record Products Award in the Kitchen & Bath category. Each year, the Record Products competition invites a jury of jury of six professionals to select the best new products of the year, rating entries for innovation, usefulness, and aesthetics. This year, Architectural Record's annual best-products competition received more than 320 entries.