HOW TO CHOOSE THE RIGHT RAINSHOWER HEAD

WHY SHOULD I GET A RAINSHOWER HEAD?
A rainshower head offers full water coverage with a soft, delicate pattern meant to recreate a summer rain. With an even pattern, a rainshower head is guaranteed to wash away any stress you carry into the shower with you.
WHY RAINSHOWER HEADS ARE BETTER THAN TRADITIONAL
Rainshower heads bring the relaxing experience of outdoor summer rain into the home. In addition to complete water coverage, GROHE Rainshowers offer multiple spray settings to help you either unwind after a long day or energize yourself in the morning. GROHE DreamSpray technology ensures efficient water distribution for a luxurious shower experience.
TYPES OF RAINSHOWER HEADS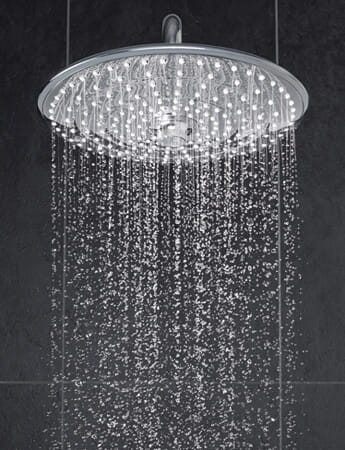 Style


No matter what your style, GROHE has a Rainshower to fit your needs. From the traditional look of Rainshower Rustic to the sleek, modern profile of the SmartActive, these products are a timeless addition to your bathroom.
What the showerhead has in design is not lost on technology, the SpeedClean shower nozzle prevents limescale build-up to keep your fixtures in top condition.
Finish

It's also important to make sure your new rainshower finish matches the rest of your bathroom's fixtures. Grohe offers products in a variety of finishes including Brushed Nickel, Polished Nickel, Starlight Chrome, Brushed Cool Sunrise, and Hard Graphite to seamlessly fit into any color scheme.
Size

Another thing to consider is coverage. Most rainshower heads come in 8 inches, 10 inches, and 12 inches. The larger the showerhead, the larger your coverage. You'll want to keep in mind how big your shower is when shopping.
WHAT TO KEEP IN MIND WHILE SHOPPING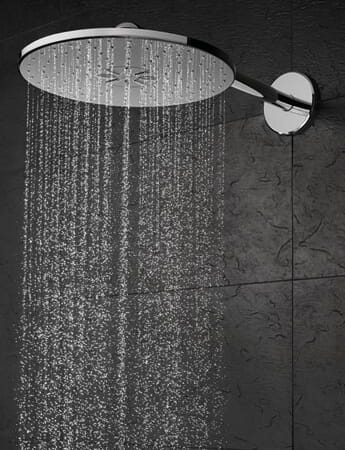 1. Function

Choosing a rainshower head doesn't mean that you have to sacrifice water pressure. While single-function showerheads only offer the rainshower setting, multi-function shower heads have different spray settings for different experiences. Grohe's SmartActive rainshower heads offer two settings, PureRain and ActiveRain for those mornings that call for a more invigorating shower experience.
2. Technology

GROHE SmartControl technology lets you adjust your water pressure at the turn of a knob and water source at the push of a button. The best part? It stores your selection for the next time you shower.
3. Wall Or Ceiling Installation

Normally, shoppers are faced with deciding between wall or ceiling-mounted rainshower heads. For showers that are currently wall-mounted, GROHE offers arm extensions so you always experience the feeling of rain falling overhead, without having to change your current plumbing system. When installing, most rainshower heads are installed a little higher than standard showerheads at 80 inches to 84 inches from the shower floor. However, installing the rainshower head about 84 inches from the shower floor is recommended to accommodate taller users.
Rainshower heads are one of the easiest, simplest changes you can make toward a spa-like bathroom experience and provide a luxurious element to your day.