Introducing grohsafe 3.0

FLAWLESSLY DESIGNED
TO MAKE EVERY INSTALLATION EASIEr
At GROHE, superior quality and flawless design are at the core of everything we do. With that in mind, we've engineered the GrohSafe™ 3.0 Pressure Balance Valve to accommodate every situation. From tight spaces to thin walls, floor or ceiling supply lines, and back-to-back installations, the compact GrohSafe, with flat back and 180° rotation, offers unmatched versatility on the job. Made of durable DZR brass for exceptional corrosion resistance, GrohSafe withstands harsh water conditions ensuring superior performance and longevity.
ACCOMODATES
EVERY INSTALLATION YOU ENCOUNTER
Whether the space is tight, spacious, upstairs or down, the Grohsafe™ 3.0 works. Its compact size and flat back design guarantee a strong, sturdy installation when mounted on a standard 2x4 cross brace, thin-wall or steel construction. Back-to-back installation is a breeze with the smaller valve and the ability to reverse the cartridge on-site. Ease of installation is enhanced with a flush plug to simplify flushing and testing, a retaining ring to secure flush plug and cartridge (sold with trim), and a clearly marked plaster guard for accuracy.
NEW INNOVATIONS
SIMPLIFY INSTALLATIONS
Quick, easy installations are essential to meet goals, increase profits and save time. The Grohsafe™ 3.0 Pressure Balance Valves are available in 7 configurations to meet your need for efficiency whether you are working with copper, iron, CPVC or PEX.
PEX ELBOW CONNECTIONS
Valve can be easily rotated to accommodate supply lines from either floor or ceiling.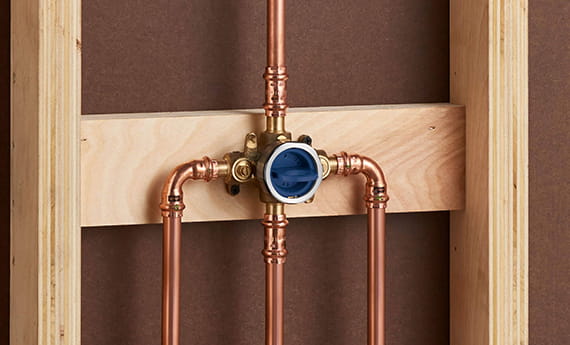 STUB-OUT CONNECTIONS
Easily connect press-connect fittings directly to the valve without any special adaptors.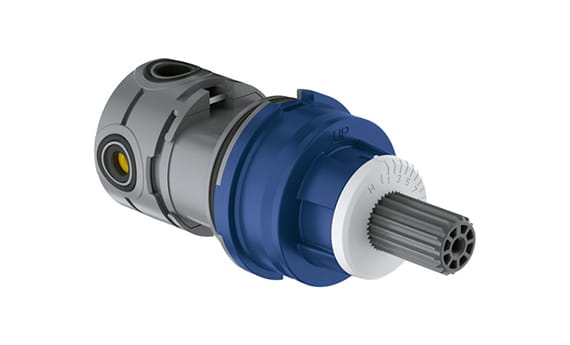 DOUBLE CERAMIC DESIGN FOR A LIFETIME OF DEPENDABILITY
The double ceramic technology housed within our 1-piece cartridge is small by design but powerful in performance. Precision crafted, the mixing discs work flawlessly to deliver the perfect blend of hot and cold water at the desired pressure while the pressure balancing spool reacts quickly to changes in water pressure to prevent scalding.
This impressive duo, made of high-grade ceramic, resists mineral build-up and harsh water conditions, ensuring consistently smooth operation for life.
THE FINISHING TOUCH, THE PERFECT TRIM
Start to finish, GROHE exemplifies premium quality and superior performance. The GROHE trim collection with cartridge fits flawlessly on the Grohsafe™ 3.0 valve. These premium all-metal trims are designed for smooth operation with precise temperature adjustment that is unmistakable. Concealed mounting plate ensures a clean, flush installation with no visible screws to obstruct its polished appearance.