WATER MANAGEMENT FROM YOUR POCKET

GROHE Sense app

One app for your personal water management: GROHE Sense app forms the centerpiece of GROHE Sense water security system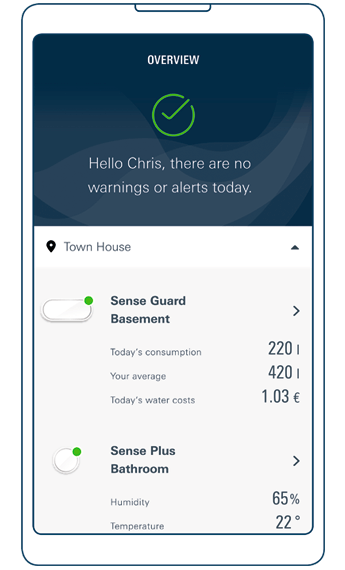 Overview of devices and latest status on the home screen
Get a quick overview of your GROHE Sense water security devices in one screen, their latest status, measurements and see any warnings immediately.

View and manage multiple rooms and multiple houses.
Install the devices easily
For easy installation, the app guides you step by step through the whole set-up process.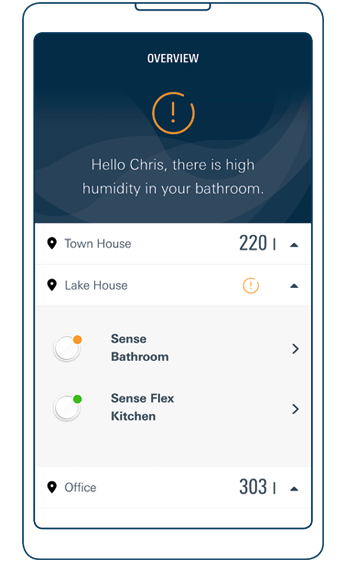 Check the status and measurements of devices
Convenient access for complete control of your GROHE smart home devices and their measurements.
GROHE Sense: Overview of humidity and temperature measurements within your home from your GROHE Sense water sensor. Set your individual preferences and thresholds and get informed of any changes when you need it.
GROHE Sense Guard: Complete overview of your water consumption – daily, weekly, monthly. In addition, the app shows regular measurements of water pressure, system temperature, meaning you have complete oversight and control.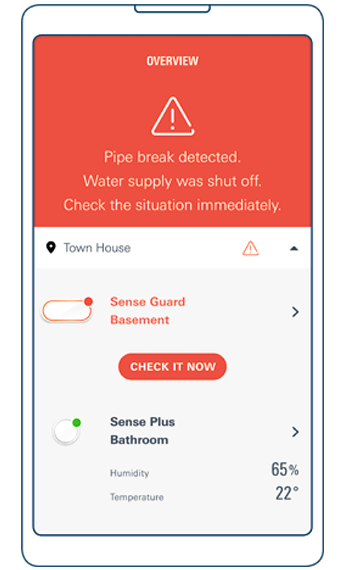 Receive notifications and alarms
Latest warning appears on the home screen, notification inbox provides overview of all warnings received. Optionally, e-mail warnings can be turned on. Most urgent warnings can be sent also to emergency contacts.
GROHE Sense: Get notified when water leaks or flooding is detected by the water sensor, the room temperature falls below 3°C, and when temperature and humidity are above or below your set thresholds.
GROHE Sense Guard: Get an alarm when a pipe break, micro leak, or unusual water consumption is detected, and when the incoming water temperature falls below 3°C. Get your water supply shut off automatically or use this information to shut off your water supply remotely to stop further water damage.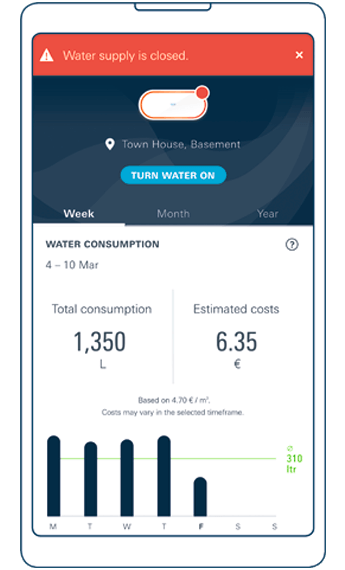 Switch your water on / off remotely
GROHE Sense Guard: Turn water incoming to your house on or off remotely from the app, by a single click. Make sure water is off when you are away for longer periods of time – to avoid possible water damage.
Manage your profile, settings, get help & support
One point to manage your profile and your settings for e-mail notifications, connected apps and emergency contacts.
For questions and issues with the app and your products – get support directly in the app.
DOWNLOAD GROHE SENSE APP ON YOUR SMARTPHONE
For Android 6.0 +, Apple iOS 10+